I've been a bad, bad blogger. This week has felt so crazy and writing is SUCH an outlet for me -I keep meaning to update, but I don't. I'm bad. But now I'm updating. :)
So rewind back to last Wednesday - Valentines Day!! Even though we had done the group date thing to go to the Melting Pot, Jason and I had promised each other a REAL date (just us) for the actual Valentine's Day. We ended up just going to Red Robin (one of my favorites) and it was just nice to be together on the actual day. Last year we had a really low-key Valentine's day too, and I kinda like that. It's more us. :)
We had planned to exchange gifts the following weekend (long story) but Jason had some for me that day!! The cheater!! He knows me so well - I'm picky when it comes to chocolate (I only really like it plain) and so got me these:
(that's 3 different HUGE Hershey bars in REAL rose petals) and this:
Yummy!!! I **LOVE** LAFFY TAFFY!! :)
He also told me that he thought really hard about something that he could make me and was having a hard time coming up with something, then thought of an idea and REALLY liked it. and he gave me this:
He welded that for me!! Isn't he a sweetie? :) I love that guy. :)
Friday night I went to see
Music and Lyrics
with my friend at
Lincoln Square
in Bellevue, and saw that they had added some Chihuly glass pieces to the lobby - SO COOL!! Especially after just seeing glass blowing it's crazy to imagine how much went into each of these 3 parts (it was a hanging thing that had 3 "bulbs")
Here's a close-up of one of the sections: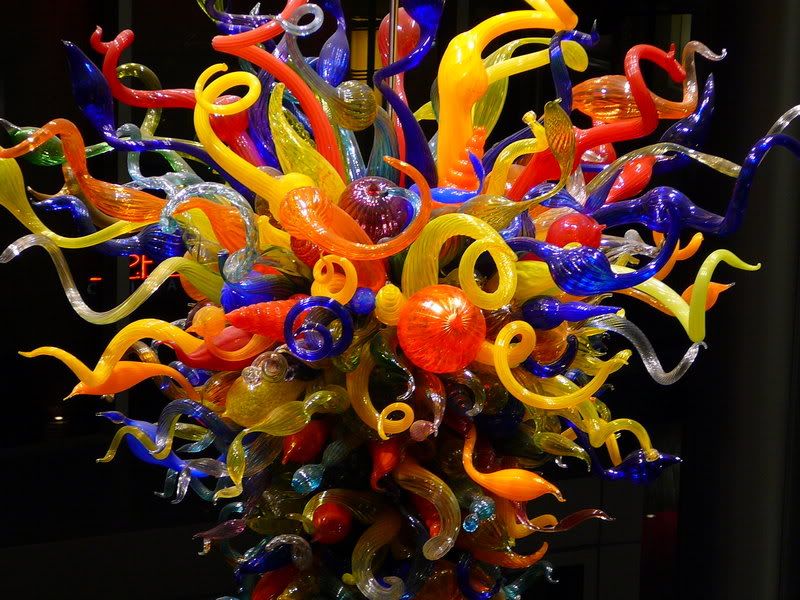 Then the glass wall with waterfall thing on it had some pieces in the pool at the bottom...so cool: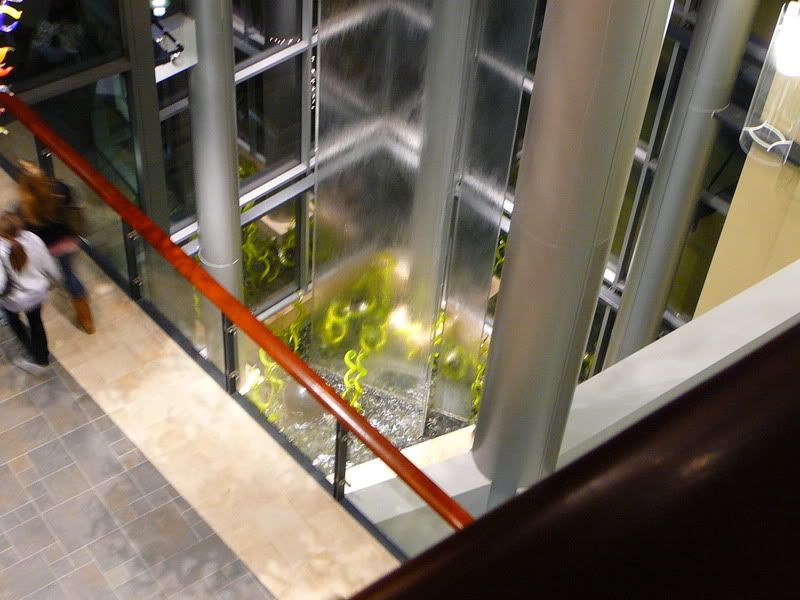 Oh and as for the movie...ehh...it was okay. I'm not a big fan of either Hugh Grant or Drew Barrymore and so a romantic comedy with them doesn't stand much of a chance with me but it had it's moments. It was okay. I'm a tough person to please when it comes to movies, though.
Saturday morning I took Jason out for breakfast to a little hole in the wall someone at work told me about. It's in Seattle located right on:
and it's called:
Now, you have to understand something about Jason. The guy is obsessed with eggs. He eats them ALL THE TIME. Every salad (even at restaurants) has to have extra extra eggs. He could eat them for every meal (and probably would if we'd let him.) The guy's crazy. So I heard about this place and had to take him there because of this reason:
That's right: A 12 egg omelet!!! And you can make your own. And it comes with "all you can eat" hash browns. C-R-A-Z-Y. So (as expected) he ordered it. The thing came out on a pizza pan!! It was HUGE!!
To understand the monstrosity...in the upper right are 2 normal-sized English muffins. It's huge. And he plowed right through it up until about this point:
When he started to slow down a little. He finally finished with this left:
He would like to point out that he ate all the egg, just left hash. :)
And I had this:
It definitely lives up to the "greasy spoon" claim to fame, but it was pretty good!
Saturday we ran some errands then helped some friends move (in the rain - sucky). They have a shitzu and so does her mom and they were playing together and wore each other out. So they laid down. Only the other dog laid like this:
It cracked me up, but I'm easily amused. :)
Sunday we hung out with some friends and just relaxed - Monday I went to scrap with my friend and worked on my Jumbo Playing Card book - I am almost caught up to the current week! Yay me. I forgot to take pictures of it, so something for next time. I also saw a sample that I thought would be cute to make for my old boss and his wife who just had a baby last month. Here's the cover: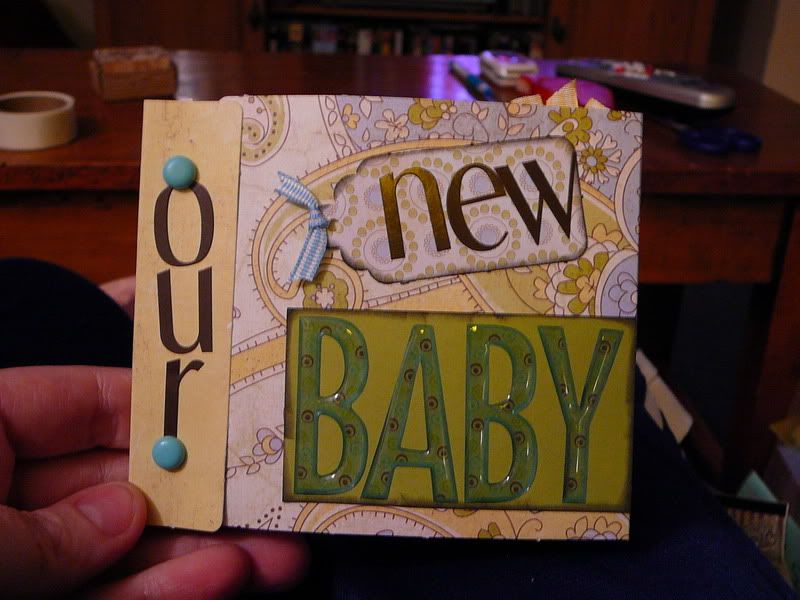 You can see the rest of the book
here
.
As for right now, it's 7:47 pm on a Thursday and I'm still at work and I don't see myself leaving for at least another hour. We are having big training presentations right now and so I'm a copying fool. Yee. Haw. It's overtime, but not worth it to be so tired. And have this headache.
Til next time!!